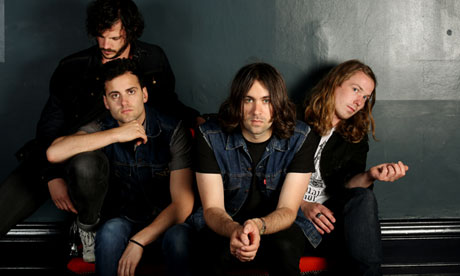 I remember when the idea of making punk rock was about fun times, being energetic as possible and displaying a message of significance, whether it of political importance and life-affirming joy. Though I never lived through it, I know fine that there was a time when The Ramones were kicking all shades of ass with their charged up punk songs. They were finished before you knew it but listening to each song of theirs has an ability to feel like the best two and a bit minutes of your life. You really feel some kind of rush of emotion whenever you listen to their songs, which explains exactly what makes their songs so indestructible, so charming and so timeless. What the hell happened to punk music that we got to a point where people believed that The Vaccines were surely the rightful contender to be this generations Ramones?
In case you weren't following the story of disposable indie rock becoming popular again, West London quartet The Vaccines reached massive popularity with their critically acclaimed debut
What Did You Expect From The Vaccines?
that reached number 4 in the UK album charts. I suppose at the time I expected something worth listening to, but was disappointed to find what was essentially a collection of 2 minute songs that took what makes The Strokes awesome and watered it down and glossed it up so it sounds good on the radio and can get the whole crowd singing along when they play countless main stage sets at festivals, which they obviously have managed to do on countless occasions.
It would be stupid to assume a band that has gained a following as massive as The Vaccines would go away any time soon and sure enough they return once more with their follow up
Come of Age
, an album that displays some sort of a progression from their debut, with longer, more sprawling songs and attempts to become more psychedelic in places. Is the result a satisfactory display of solid songs with fully fronted performances that will hopefully make the taste of their millions of female fans (Seriously, girls in Vaccines T-Shirts everywhere at T in the Park) more sophisticated in such a way that they will go onto discover the more classic bands that influenced the band they love so? No silly. Just more trendy alt rock.
Opening with the aptly-titled
No Hope
, the band set the tone of the album, giving their best selection of indie rock riffage that you've already heard in a million better songs fronted by the weak and lifeless vocals of Justin Young, who simply sounds like he doesn't care about his band and isn't willing to show off his best talents. If what he produces across the album is an example of his best talents in action, something went really wrong in the search for a lead singer.
Unfortunately, when Young does make an effort with his vocal performance, every effort he gives reeks of some sort of not-so-well hidden desperation. Throughout
I Always Knew
, Young puts on what seems to be an attempt to create some sort of a pained howl in order to achieve a tragic sense of swagger to look cool. Essentially he emerges sounding like a dumbed down Julian Casablancas and doesn't sound so much pained as his performance does painful. Throughout the likes of
All in Vain
and
Weirdo
, Young's attempts to create some sort of emotion falls flat and makes him sound like the last person suitable for a job as a lead singer of a band.
This is a massive shame because when the rest of the band, including Young on guitar put their full effort into the playing of their music, the amount of thrills actually do start to pick up.
Ghost Town
and
Bad Mood
tear through with a range of big riffs that prove the Ramones comparison might not be completely in vain, while the idea of fusing distorted guitar lines with a sprawling atmospheric backdrop for closer
Lonely World
is fairly engaging, but ultimately is it worth it for having to sit through those awful vocals? For some bands it might be, but not The Vaccines.
And that once again sums up my experience of listening to a hotly billed rock band said to be the next big thing because they make songs that sound good for the radio. I didn't enjoy it. Like Two Door Cinema Club, The Vaccines are a band blessed with a whole range of great bands before them that they can take an influence from, yet they manage to use it to make the simplest, dullest and blandest songs that appear to have little passion or energy put into them.
Come of Age
doesn't sound like a punk rock album that celebrates several generations of guitar playing rock and punk bands that have come before them in the same way that an album like The Gaslight Anthem's
Handwritten
does, it just feels like an album featuring songs that will allow them to remain relevant in an "ever-changing" world of rock music that in many ways, isn't quite as fast moving as people make it out to be, at least not as fast moving if you're a band that has managed to become massive. In that sense,
Come of Age
seems a little like an album that was made in a rush that didn't give the band a chance to give it their all. Perhaps now that they are officially a massive band, they might have a real look over their songs, the bands that have influenced them and the principles of what makes a great rock album. A passionate vocal performance is a good start. Maybe after that, they can score third time luck and show those that view alternative rock and punk music as more as a fashionable trend what they're really made of. Maybe they can become this generations Ramones after that.
The Vaccines'
Come of Age
is out now via Columbia. The band will tour the UK in November.